Guitar Tops
All German Spruce tops
made in my workshop are hand-crafted
in a way that is optimally serving the subject,
namely to strive for perfect sound.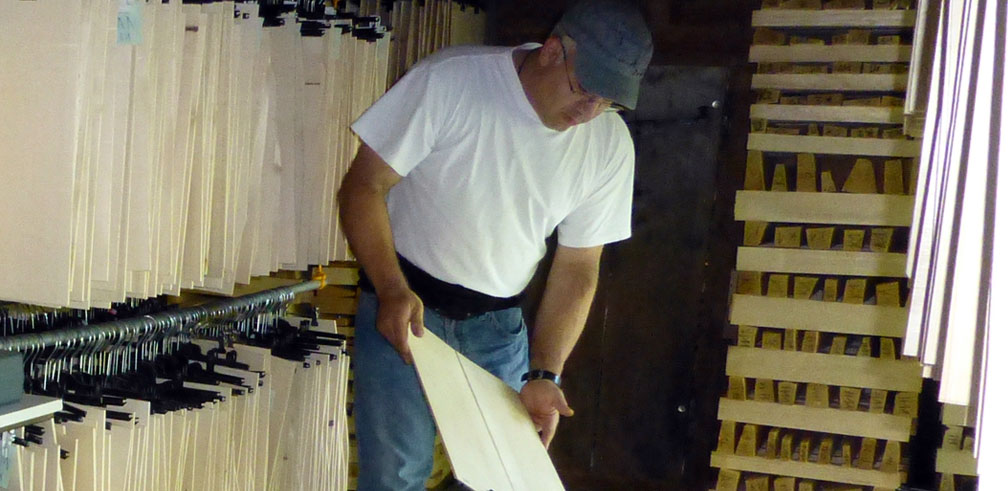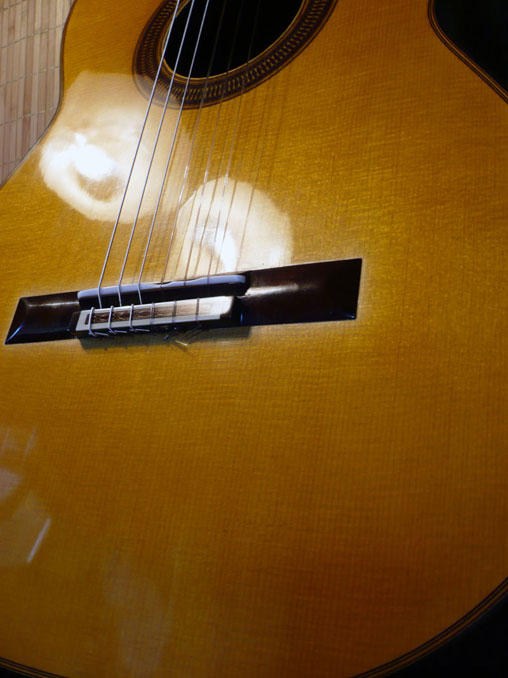 A master guitar mostly lives from its construction. It's the luthier's talent, his experience and his skillfulness that are mainly responsible for the unique sound of a guitar. Nevertheless, the knowledge about the wood's physical and sound characteristics should also be there when splitting and sawing it.

Despite from visible quality factors as, for example, grain and color, the wood's physical characteristics should also be taken into consideration if the right guitar top should be chosen!

Medullary-rays (cross-silk-pattern, silver grain), for instance, reveals that the wood has been quarter-sawn. But what's about the exact split of the guitar top? The so-called Run-Out, which decreases the top's quality immense and this is not visible at first sight! However, there are a variety of attributes influencing the sound (i.e. attack point, sustain and resonance) of a good top, the wood's stiffness (crossways/lengthways), the relation from exact weight to volume - the density (elasticity/hardness) and the natural spiral growth of a Spruce tree. Unfortunately, these features are not paid sufficient attention in any top`s grading.
Guitar Top Sizes and Dimensions **
Size
Dimensions
in mm
Dimensions
in inch
Classic top
530 x 200 x 4,5 mm
(2 sym. boards)
20.87 x 7.87 x 0.18 "
(2 sym. boards)
Western top
550 x 215 x 4,5 mm
(2 sym. boards)
21.65 x 8.46 x 0.18 "
(2 sym. boards)
Jumbo top
560 x 230 x 4,5 mm
(2 sym. boards)
22.05 x 9.05 x 0.18 "
(2 sym. boards)
Bouzouki top
410 x 155 x 4,5 mm
(2 sym. boards)
16.14 x 6.10 x 0.18 "
(2 sym. boards)
** Dimensions can vary a little from top to top. For the exactly measures of YOUR tops, please check out the photos attached on individual offers.
To trade with guitar tops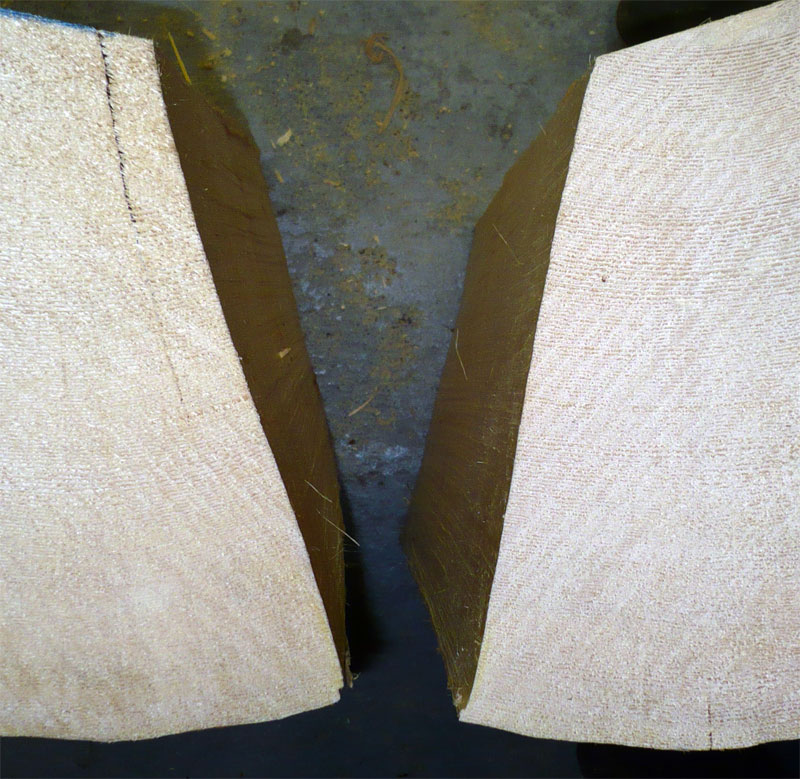 To offer guitar tops they fulfill exactly the needs of my customers, is a very importent concern. By a long-term customer care I know that every luthier feels the wood different. Therefore, an individual offer preparation and a lot of intuition, are the best preconditions for longtime satisfied customers around the world.
Finest grade guitar tops are not only depending from optical aspects, as there are many aspects which must be observed during the production, that influence a guitar top's quality and that one cannot see at first sight.
In fact, the luthier's personal sound preferences are a very important point as well. For me, to trade with tonewood is a question of trust between the luthier and the tonewood-supplier.
Grading criteria for finest guitar tops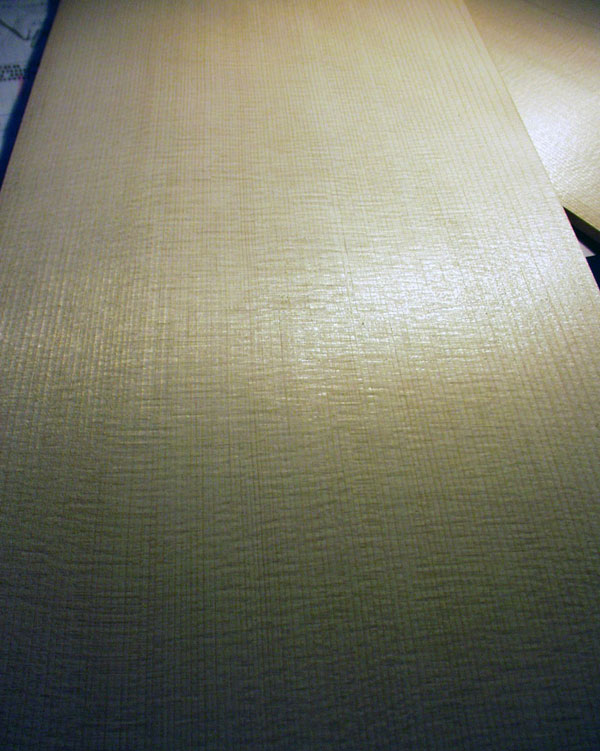 My primary goal is supplying luthiers and tonewood dealers holding highest standards with their materials. Thus, my German Spruce guitar tops are several times hand-selected, sorted and controlled accurately.

The following table shows the main quality properties of the different quality-grades of my guitar tops. This table should be only a guideline, rather the main point by classification is the combination off all quality properties and finally the optical aspect of a guitar top as a whole! Furthermore wood is a NATURAL PRODUCT, therefore every guitar top is unique. Slight deviations in the appearance of the guitar tops with the following grading properties, do not represent defects. Finally the overall impression at the classification suburb decides about a guitar top's grade.

The table "Grading System" are comprehensively following the criteria important and decisive for world-class luthiers and finally for me as a high quality tonewood supplier!
Grading System for German Spruce Guitar tops
| Physical and Optical Grading Properties | Master | AAA | AA | A |
| --- | --- | --- | --- | --- |
| Minimum of run-outs (exact split) | ✓ | ✓ | ✓ | ✓ |
| Cross silk pattern (medullary rays), accurate quarter-sawn | ✓ | ✓ | ✓ | ✓ |
| Very low density (relation from exact weight to volume) | ✓ | ✓ | ✓ | ✓ |
| Symmetric reflection of light (based on exact split cutting) | ✓ | ✓ | ✓ | - |
| Annual ring spacing from minimum 10 rings per inch (25 mm) | ✓ | ✓ | - | - |
| Very straight growth and grain and no visual defects | ✓ | ✓ | - | - |
| Even color (no color variations from compression wood) | ✓ | - | - | - |
Brace wood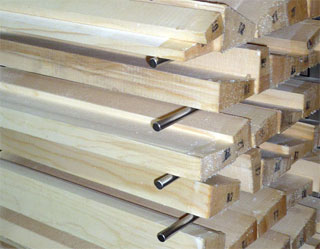 | Split and planed in split direction ** | Length | Unit |
| --- | --- | --- |
| Brace wood, for Guitar | 540mm | 1 kg |
* The prices are in EURO and net from my delivery department in Ruhstorf/Germany.
** Dimensions can vary a little in length. Different profile dimensions (depends from splitting).
The individual offer includes a photo of each guitar top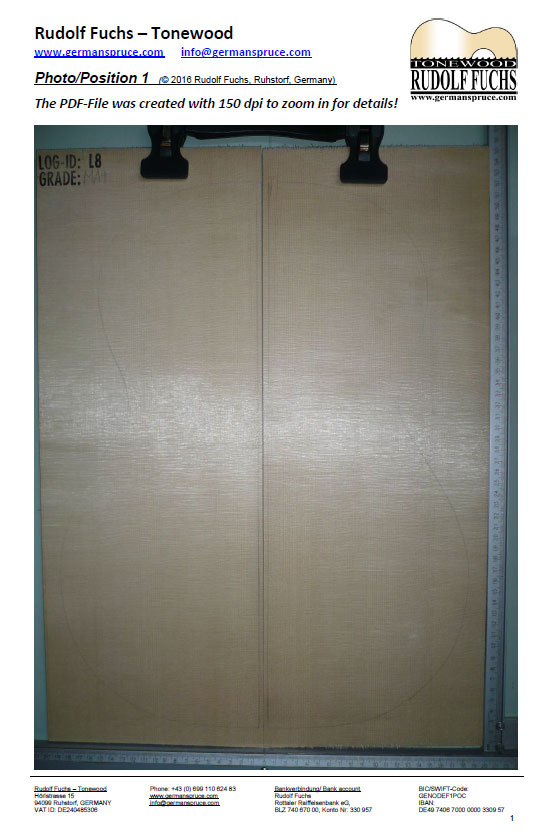 My service for customers includes an individual and rapid offer preparation and/or professional advice for questions concerning German Spruce - especially tuned on customer wishes.
A detailed photo of each guitar top with planed front sides as a standard by all my individual offers (all tops are specially selected according to my customer's needs) will be attached to the e-mail offer as PDF-file. This service is self-evident and allows the customer to get a first impression of the tops as well as to convince himself of my top's quality.
Information from the wood of the finished top - Log Descriptions
Due to my amicable and close cooperation with very experienced and adept foresters in the Austrian and Bavarian Alps, Italian Dolomites and the Bavarian Forest, I am able to pass a lot of important wood information on to the customer if requested. These "Log Descriptions" includes information about date and location of logging, above sea level, density, speed of sound and the average ring spacing! The speed of sound is calculated to Matthias Dammann. For detailed information download "Criterions of Quality for Tonewood by Matthias Dammann".
The age of the offered guitar tops/soundboards
Only winter cut/felled spruce logs and also Moon Spruce will be processed to guitar tops. All offered guitar tops were 100 percent air dried (air seasoned) at least 2 years before they go on to the way to you. After a short period of acclimatization, they are ready for further processing in your workshop. For storage notes, right after arrival of the guitar tops, please pay attention to my "Guitar Top Guidance".